Yesterday we received our certificates of the Best of Riesling competition
Both the 2018 Graacher Domprobst Spätlese Riesling -S- dry and the Spätlese feinherb achieved 89 points. The Graacher Domprobst ** (our Großes Gewächs) has reached 90 points. We are very proud of the result and are happy about the reward for all the work.
Details about the competition can be found at www.best-of-riesling.de or in Meiniger's Weinwelt (issue 5/2019).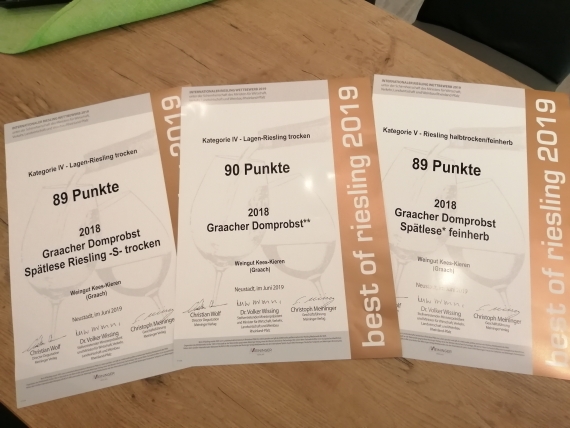 Graacher Domprobst Riesling trocken -S-
Das "S" macht den Unterschied. Für die Feinschmecker unter den trocken Trinkern. Sehr fordernd, sehr gehaltvoll, eine ansprechende Würze mit viel Fruchtigkeit.
Graacher Domprobst Riesling Spätlese* feinherb
Komplexer, körperreicher Wein mit dominierenden Zitrusfruchtaromen, setzt sich hinsichtlich Kräftigkeit und Aromatik vom Kabinett ab
Jahresauswahlprobe Moselwein e.V.: 3. Platz Riesling Spätlese feinherb